The Intelligent team time tracker
Use Daybeam to track what you and your team are working on. Then use our AI Assistant to easy find out what was done. 100% FREE.
Features
Our AI time tracking tool makes it easy to track your teams time, using our Google Chrome Extension or dashboard. Ask our AI exactly what you want to see regarding yours or your time.
Intelligent
Daybeam enables effortless tracking of your and your team's time. Simply inquire with our AI Assistant about the tasks completed.

Conveniently discover the activities of the current week, compare different weeks, summarize the work accomplished by you or your team, and more.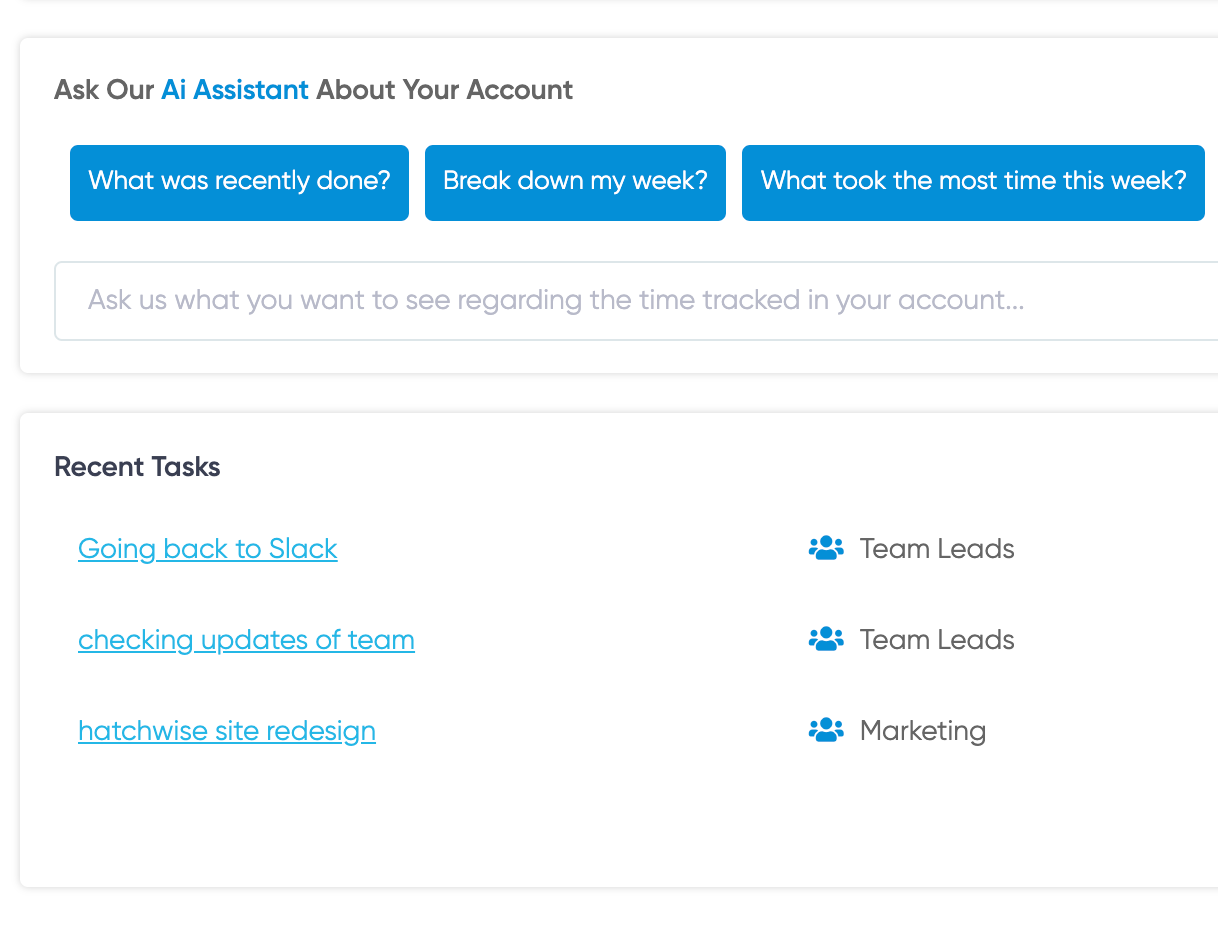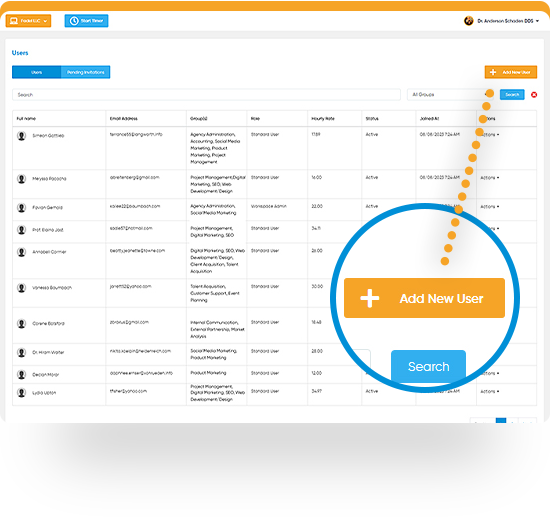 Easily
Add Users
Daybeam lets users see where they are spending their time, and how much that time costs. Users can track their own time spent on tasks or add others to track entire teams across a wide range of tasks.
Create groups and users or tasks to keep track of task progress and costs, and assign individual users to different roles on an as-needed basis. Daybeam makes it quick and easy to see where your time is going and how much it is costing you. Stay on top of your team's time, and your project budgets, and do it all for 100% FREE!
Intuitive
Groups
Group users by department, team, role, task, or any other criteria you choose to make scheduling, auditing, invoicing, and reporting tasks quicker and easier.

Create a group for each department, or a group for each team to make prioritizing & scheduling easy. Create groups based on user role or pay rate to simplify payroll processing. Create groups based on tasks or projects to make invoicing a breeze. The choice is yours.

Daybeam makes it easy to add and remove users from groups or create new groups with a few clicks of the mouse. Organize your project flow and teams down to the individual user or task, and do it all for 100% FREE.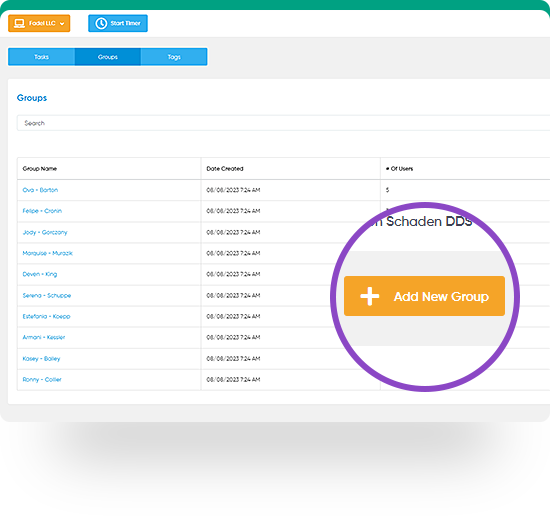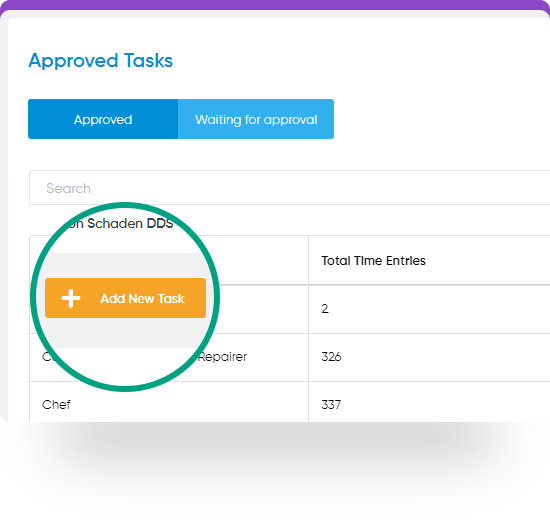 Easily
Track Tasks
Daybeam time tracker lets users break down large projects into small bite-sized tasks. This allows the workload to be spread out over multiple team members increasing productivity.

Starting a new task is quick and easy, and users can quickly switch between one task and another without the need to navigate through several screens.

Sub-users can suggest new tasks, and the main user can easily approve and create the task or merge tasks together. Daybeam's task merging feature makes it easy for team leads to keep even the largest and most complex projects on track and moving forward.
Smart Detailed
Reports
Daybeam reporting tools make it easy to see all of your time and expenses at a glance. Gain valuable insight into task and project costs for more accurate invoicing and planning.

Get a bird's eye view of where your team members are spending their time, who is doing what, and quickly identify areas where productivity or profitability could be improved by reassigning team members to different tasks.

Daybeam creates easy-to-read visual reports that allow you to get a clear picture of labor needs, and project costs. Identify small issues before they become big bottlenecks, and keep your projects on time and on budget every time.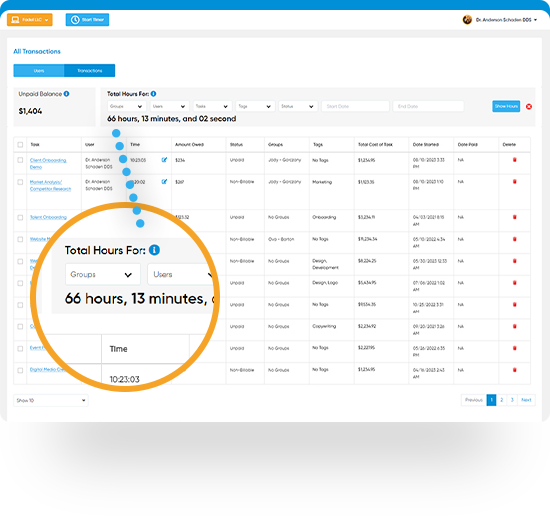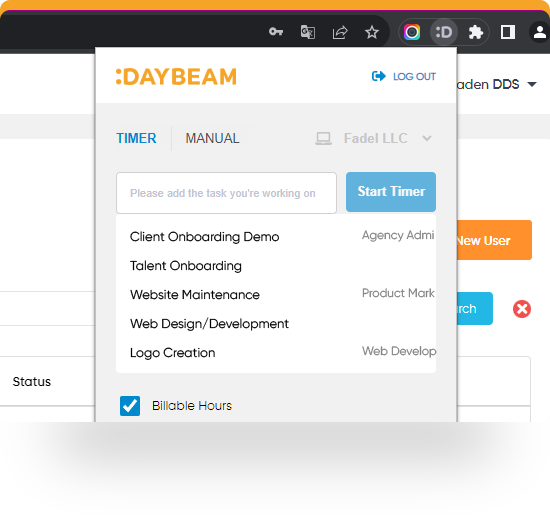 Google
Chrome Extension
Use Daybeam everywhere you work with our convenient Google Chrome extension.

This convenient browser extension lets users start and stop the Daybeam time tracker wherever they are working within the Google Chrome browser.

No need to return to the Daybeam dashboard. Switch tasks, take breaks, and start and stop the timer without interrupting your workflow.
We have simple pricing for every company
Get Early Access.
100% FREE
Follow us on Twitter for latest updates
Follow
@godaybeam