Do You Have Questions? We Have The Answers!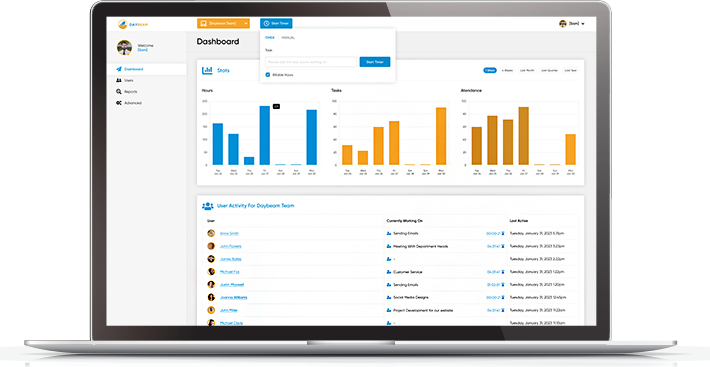 Getting Started & Using Daybeam
Browse the questions and answers below to learn how to get started with Daybeam FAST! 

I have been invited to join Daybeam. How do I get started?
Daybeam makes it easy to start tracking the time that you spend working for your employer or clients. Simply log in using the link in your invite email and follow the instructions to start tracking your time.

What happens if I do not have an invite link?
If you have not received a link to join Daybeam as a standard user, please ensure that the email address provided to your employer or client is correct, and be sure to check your SPAM folder for your invite.

Do I need any specific hardware or software to use Daybeam?
Daybeam is designed for use across a wide range of devices, platforms, and browsers. Access Daybeam from any internet-connected device and begin tracking hours in real time.

Can I use Daybeam on my mobile device?
Yes. Daybeam makes it simple to track time worked on tasks no matter where you or your team members are working. Simply log in to Daybeam from any internet-connected device and start tracking your hours in real time.

Can I correct time entry errors?
Daybeam time entries and time logs can be manually edited to subtract time overages or add unreported time spent on a task.

Will Daybeam continue to track time if I am offline?
Yes. Daybeam is a web-based app. You can log in and begin tracking time from any internet-connected device from a desktop computer to your Android or iOS mobile device. Daybeam will continue to track your time until the timer is stopped. Away from the office? Spilled your Starbucks on your laptop? Wi-Fi down? No problem! Simply log in to your Daybeam account from your smartphone or tablet and continue to monitor and control your time tracker without missing a beat.

Getting The Most Out Of Daybeam
The answers you need to optimize your Daybeam experience. 

How does Daybeam improve the time-tracking process?
Daybeam empowers business owners and team members to track billable time down to the minute. The intuitive time-tracking dashboard makes it easy to see at a glance where time is being spent, and allows you to generate accurate invoices and payroll reports. No more guesstimates, overpayments, or untracked billable hours.

As a standard user, can I access my own weekly or monthly time-tracking reports?
Daybeam tracks individual time spent on tasks by the hour, day, week, month, and beyond. Your administrator will be able to advise you on obtaining copies of these reports as needed.

Can I track time spent on specific tasks with Daybeam?
Yes. Daybeam allows users to accurately track the time spent working on specific tasks down to the minute. Know how much time is spent on completing various tasks, or how much time has been dedicated to a particular project.

Is Daybeam reliable?
Daybeam is incredibly reliable. Daybeam is a web-based application allowing for continuous time tracking regardless of individual device connectivity. Computer crashed? Wi-Fi down? Simply log in to your Daybeam account from any Android or iOS device and keep tracking.

Does Daybeam integrate with the other apps and tools that I use?
At this early stage, our team is focused on ensuring that Daybeam provides users with the highest quality and most reliable time-tracking experience. As we move forward we will be building integrations so that you can use Daybeam from all of your favorite work and productivity apps.
Do you have questions? Our friendly, and knowledgeable customer success team is always happy to help with whatever you need.
For the fastest response, send us a message using the form below. Just tell us what you need, and we will get right back to you with an answer or assistance. We review every message, and most will receive a response within 24 hours or less. Looking for another way to reach us? Speak with a representative via Live Chat or send us an email at support@daybeam.com