Modern business owners are increasingly looking for effective ways to track work hours and foster sound time management practices. There are an array of team tracking tools to choose from in the time tracker realm and Harvest has consistently ranked as one of the most popular options.
So what makes the Harvest app such a popular choice? The Harvest time tracking app goes beyond simple employee time tracking by offering expense tracking, invoicing, scheduling, and project time management features. The functionality of the Harvest time tracking app can be expanded even further through easy integration with many popular productivity and business administration tools.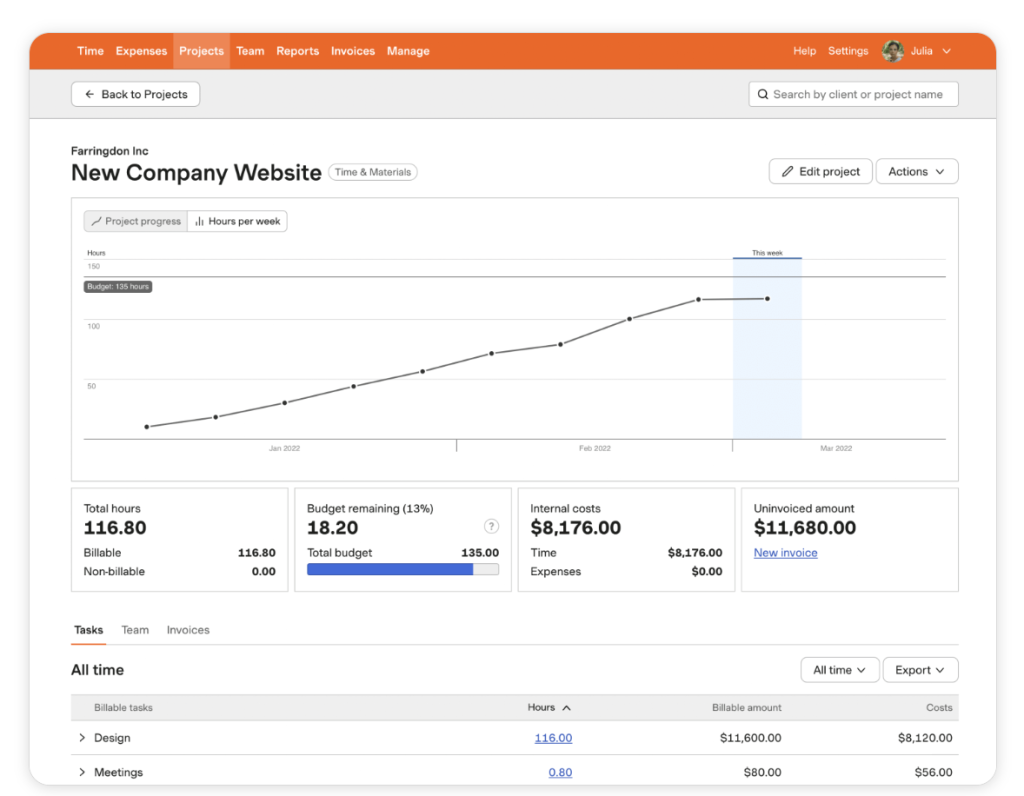 Of course, features and functionality are not the only factors that can sway a decision to choose one time management system over another. For many small businesses, startups, and freelancers cost plays a significant role in their final decision. After all, continuing to use a manual time clock to track work hours is technically free (if you don't count the administrative cost of dealing with paper time cards). Most businesses who have recently transitioned to a remote or hybrid workforce, or are just beginning to explore the advantages of employee time tracking software are looking to start tracking with a free time clock app first and ramp up service options as needed later.
How Much Does Harvest Cost?
The Harvest time tracking app is available for free on a limited-use basis. The free version allows one user to use the Harvest app to track time for up to two projects at any given time. While this package is free to use forever the user and project restrictions make it impractical for most businesses and startups. Even freelancers, or solopreneurs are likely to feel constrained by the cap on their ability to create projects. Solo users will need to select the Harvest Solo plan which allows one user to create and track time on an unlimited number of projects for $12 per month. Larger teams will need to pay for the Harvest Team plan which removes all restrictions for a cost of $12 per user per month.
What Are The Best Free Alternatives To Harvest Time Tracking?
While the Harvest timesheet app does offer limited time tracking ability for free, businesses and teams will find that as an employee time tracking app, Harvest's costs are at the higher end of the range for similar time management apps offering many of the same functions.
In this post, we will take a look at 5 free Harvest alternatives that may offer a better option for small businesses and startups seeking a no-cost or low-cost time app.
Harvest Alternative #1: Clockify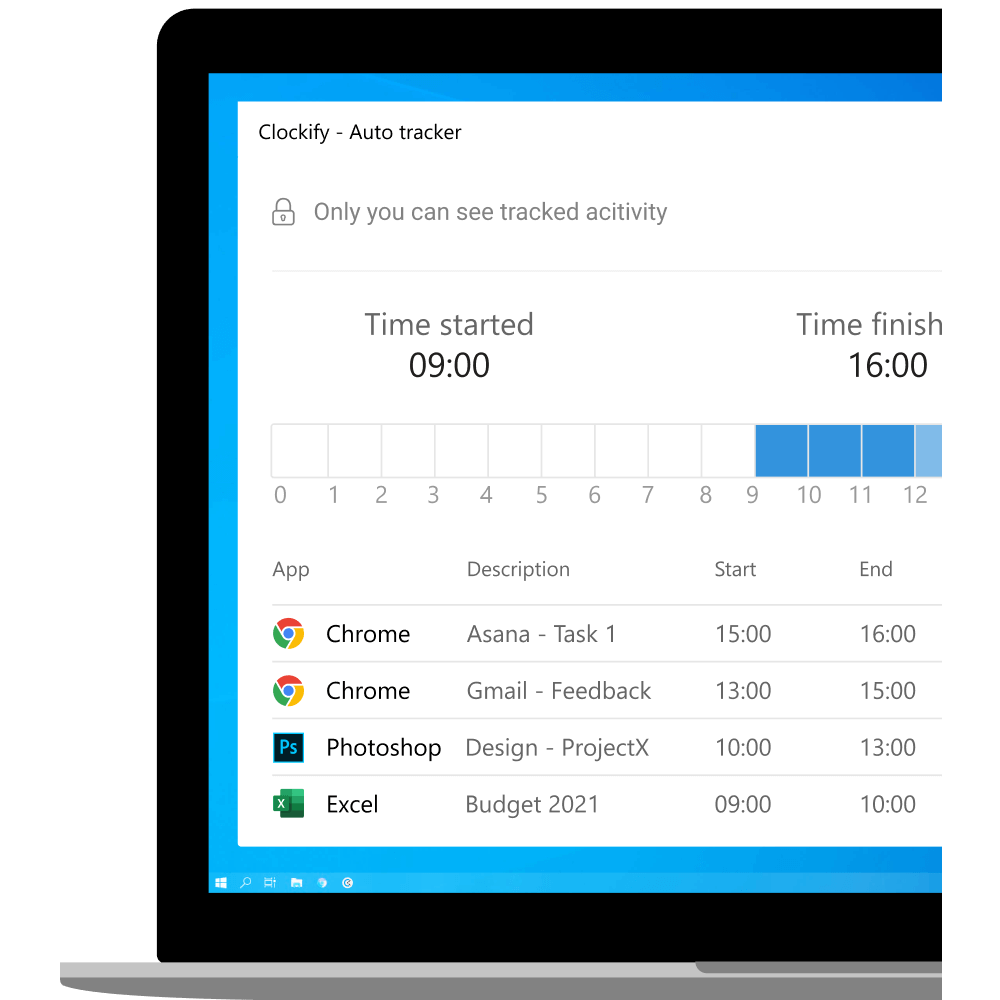 The Clockify app is one of the most popular free work time trackers and it is one of the best picks as a Harvest alternative. Clockify offers a solid time tracking and employee attendance solution for every organization from freelancers and solopreneurs to large organizations.
Clockify time tracker lets users and administrators track the time that is spent working, as well as the time that is spent completing individual projects and tasks. The simple timer makes it easy to clock in and out of existing projects, and quickly switch between tasks. Users are able to create projects, and attach tags that create a fine level of detailed project tracking and reporting for accurate budgeting, invoicing, and payroll.
The Clockify time tracker can be accessed via a desktop app compatible with Windows, Linux, and Mac operating systems, as well as a mobile app for both iOS and Android. While the mobile app is limited to more basic functions, the desktop version offers advanced features like detecting when the user has been idle for a while and automatic reminders that alert a user when a timer has been running for an extended period of time.
How Much Does Clockify Cost?
At first glance, the official Clockify pricing can be a bit misleading. The pricing page appears to show four paid subscription packages ranging in price from $4.99 per user per month for a basic time tracking and attendance plan to $14.99 per user per month for a full-featured Enterprise plan, however, if you look a little closer, you will find the Clockify Free Forever plan that offers simple time tracking, for an unlimited number of users, across an unlimited number of projects completely free.
Harvest Alternative #2: My Hours
My Hours is another free time tracking software option geared toward freelancers and small businesses who are looking for a simple tool to track attendance, work hours, and project costs. When it comes to free time trackers, My Hours is certainly one of the better values out there.
Because My Hours is a cloud-based time tracking app, users are able to easily track time worked on projects and tasks from any desktop or mobile device. Additionally, My Hours offers a full host of integrations with more than 2000 popular productivity, and business administration apps like QuickBooks, Zapier, and many more. This expansive suite of integrations expands the overall functionality of My Hours even further.
How Much Does My Hours Cost?
My Hours keeps it simple with just two subscription plans. The first, a free forever plan lets an unlimited number of users track time across an unlimited number of projects at no charge. Those looking for more advanced features like invoicing, workflow auditing, and more can get these services for $9 per active team member, per month.
Harvest Alternative #3: Traqq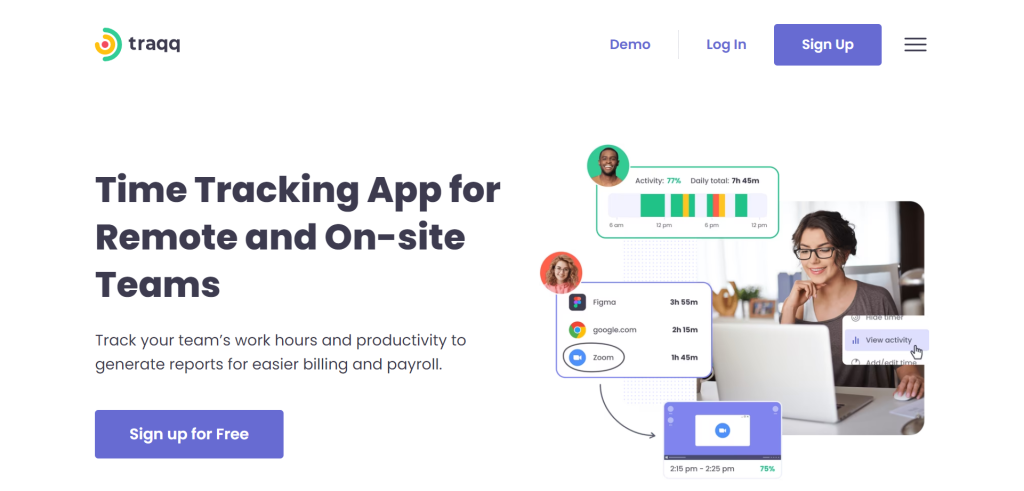 Traqq is another productivity and time management system that uses a suite of automated tools to monitor employee attendance, work performance, and project timelines and costs. Traqq is heavier on employee monitoring features than similar time tracking platforms making it a solid option for organizations that need to keep a close eye on their team throughout the workday.
Traqq allows administrators to monitor employee productivity during work hours through the use of random screenshots, and tracking of keyboard activity and mouse movements. Managers can also use Traqq tools to monitor website and app use on the clock. The automated time tracker is easy to use, simply click to start tracking time and click to stop at the end of the shift. The tool will automatically log time and activity to an online timesheet for accurate billing and payroll processing. Traqq is currently available on Windows or Mac desktop operating systems, with a mobile app version in development at the time of this writing.
How Much Does Traqq Cost?
Traqq offers 3 pricing tiers ranging from a free Premium Starter plan for small teams to a custom Enterprise plan for large organizations of 100 or more users. All three plans include access to all premium features, however, the free Premium Starter plan is limited to a maximum of 3 active users making it a viable option for only very small businesses, agencies, or teams. Larger teams of 4 to 100 users will need to purchase the Premium Teams plan for $7 per user per month to gain access to all premium features.
Harvest Alternative #4: Jibble
Jibble is another strong contender in the free time tracking arena, with advanced features, an easy-to-use platform, and a generous array of options available for free.
Jibble is one of the more robust productivity tracking and time management systems. Users are able to clock in and out of work from a web browser, tablet, or mobile device, or through MS Teams and Slack integrations. Additionally, GPS tracking and facial recognition features offer an extra layer of security letting administrators know who is clocking in and where they are clocking in from.
How Much Does Jibble Cost?
Jibble offers four pricing tiers. The Free Forever plan provides a generous selection of tools that will meet the basic time tracking and attendance monitoring requirements of most businesses, including the added security of facial recognition, GPS, and offline time tracking.
Users who are looking for even greater levels of productivity insight and more robust reporting tools can opt to purchase one of Jibbles paid subscriptions ranging in price from $2.99 per user per month to custom Enterprise pricing for large organizations. These paid subscriptions grant users access to project and task tracking, budgeting, and scheduling tools in addition to the time tracking and attendance verification functions.
Harvest Alternative #5: TimeCamp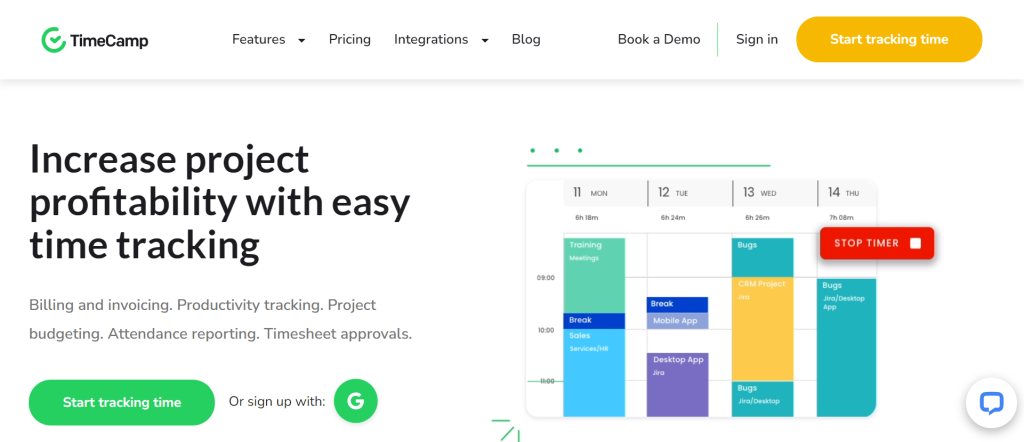 TimeCamp is an automatic time tracking tool with a strong focus on time management and productivity. Users and administrators are able to track not only the time worked during the day but how that time is spent. Over time, apps, and websites can be tagged as productive or non-productive and reports can be generated that help team members to identify and correct time-wasting behaviors.
TimeCamp does not make use of the typical time clock feature that is fairly standard on most competitors' platforms. Instead, an automated attendance tracker creates timestamped reports of users' activity while they are logged into the system. These timesheet-style reports can be used to see the amount of time the worker was logged in and performing work-related tasks giving it the same basic functionality as a traditional time clock app. TimeCamp report will also allow team leaders and administrators to identify trends by breaking down time by project, task type, client, billable rate, and more.
Users who are looking for even greater functionality can upgrade to a paid subscription to gain access to tools like proof-of-work screenshots, budgeting, and invoicing features, as well as the ability to integrate TimeCamp with a wide range of popular project management and business administration tools like Asana, Zapier, QuickBooks, and many more.
Essentially, TimeCamp is a basic time management system. Users will need to add project management and business administration solutions to gain the scheduling, accounting, and client reporting function they need as these are not built-in to the tool.
How Much Does TimeCamp Cost?
TimeCamp offers 4 distinct pricing tiers to meet the needs of different businesses and teams. The free version is only available to a single user making it a solid option for freelancers and solopreneurs, but impractical for teams, agencies, or businesses. Paid subscriptions for larger teams start at $6.99 per user per month for the Basic plan that offers standard time tracking functions plus unlimited integrations, and the ability to set billable rates. Users can also opt for the Pro plan for $9.99 per user per month to gain access to advanced security features like screenshots, two-factor authentication, as well as invoicing functions. An Enterprise plan is available for large organizations looking for a full-featured experience.
The Best Harvest Alternative For Your Business
While Harvest is a solid time tracking option, it is definitely worth your time to explore some of the other top free time tracking options available on the market. Every business is different and has unique requirements. We have presented 5 of the strongest Harvest alternatives here today, but these are by no means the only options available.
We recommend that you take some time to analyze your company culture, your business structure, and what you are personally hoping to gain from implementing a new time management system for your business. Brainstorm which features are must-haves, which are not something that your business would use, and which features you would rather not have. For example, time tracking apps that are heavy on employee surveillance can be great for increasing productivity and efficiency in some businesses and can be disruptive and resented by staff in other businesses.
You will also want to consider the true cost of any free time tracker. While you may be able to perform basic time tracking for free on many platforms, the actual price tag may be much higher if you need to integrate additional third-party solutions for project management and business administration tasks. By taking the time to analyze your business needs, and explore all of your options we are sure you will find the perfect free time tracking solution for your business.