Is your business still asking employees to punch in and out using a traditional time clock? Are you still spending hours poring over timesheets, and tracking down time log entry errors? If so, it is definitely time to consider making the transition to an online time recording app.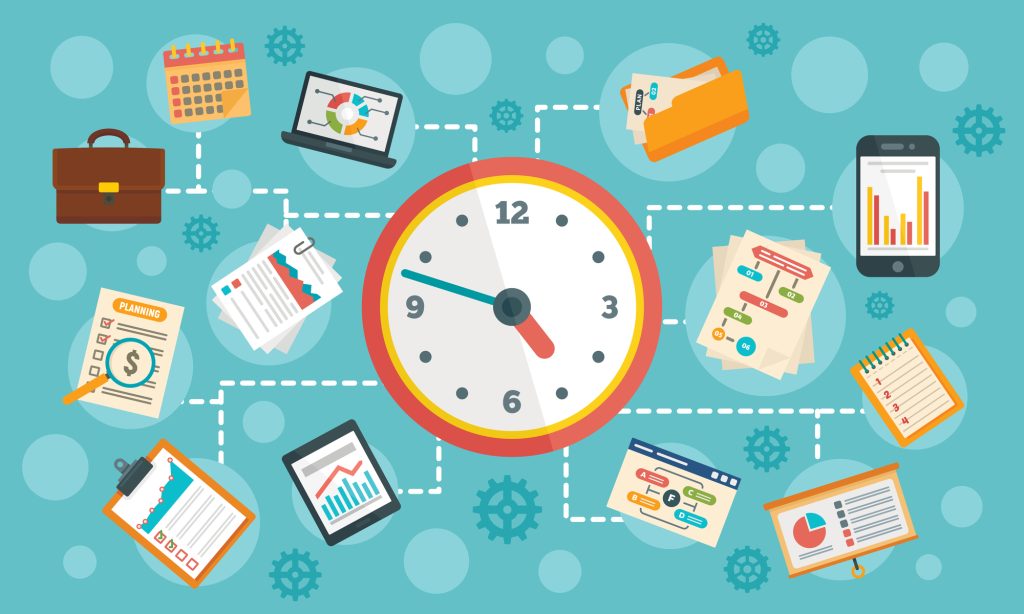 Online time trackers have gained in popularity as the work environment has steadily transitioned from on-site work to remote or hybrid solutions. While employers were initially seeking a reliable method to track the productivity and work hours of staff working from home, many soon realized the convenience and value that these time tracking tools could offer to on-site staff as well.
Today the online time recording app market has expanded to include a variety of different options to suit an array of business types, sizes, and goals. In this article, we will take a look at some of the most popular employee time trackers, dig into what features make each unique, and help you choose the right time recording app for your business.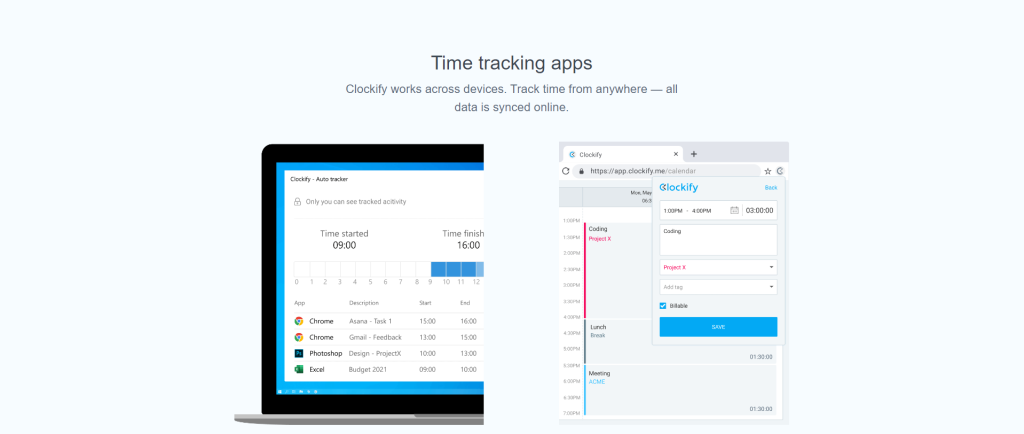 Clockify bills itself as the "most popular free time recording app" and it certainly is one of the most commonly used in the current marketplace. The Clockify app offers an easy-to-use solution that allows employers to choose their level of time management and productivity tracking.
The Clockify app allows users to choose how they wish to use the app right from the start with four different ways to track their hours. Users can choose to track time via a simple stop-watch-style time tracker that lets users click an on-screen time clock to start tracking time on a specific task and click to stop when they switch to a new task or complete their work for the day. Each individual timer is saved allowing users to easily click back in and start tracking time for the same task again when they resume work.
Users can also opt to enter time manually in a timesheet or by creating manual timers for later use. Finally, users who are interested in time management insights can choose to have the Clockify app automatically track the websites and apps that they use throughout the workday and how much time is spent on each.
Who Is Clockify The Best Time Tracking Fit For?
The flexibility of the Clockify app makes it a solid fit for freelancers, solopreneurs, and teams of all sizes. In addition to providing several time tracking options, and time management tools, Clockify is one of the few tools that offer a free basic employee time clock function for an unlimited number of users. Those who are looking for more advanced features like scheduling, project management, budgeting, and expense reporting will need to purchase a paid subscription.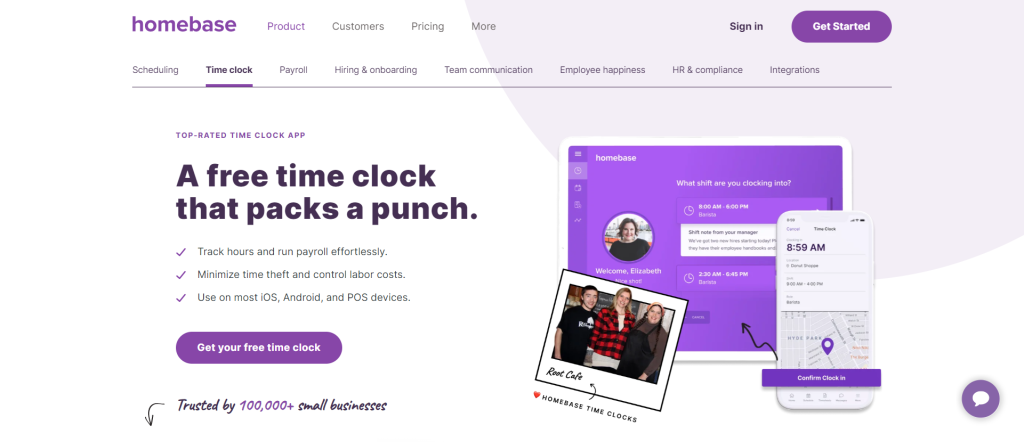 Homebase is another strong contender in the time recording field. The Homebase app brings several popular features together under one easy-to-use automated system. At first glance, Homebase appears to offer many of the same functions you would expect to find on any time tracking platform. The app allows for employee scheduling, time clock punching, timesheet management, and basic payroll processing.
Homebase stands out for its accessibility from nearly any device. Employees can view their schedule, clock in and out, and communicate from any desktop, or mobile device, and select POS terminals. Built-in security features like GPS tagging, and late clock-in alerts help managers stay informed and in control no matter where they, or their teams, are located.
Who Is Homebase The Best Time Tracking Fit For?
The Homebase app is focused on the functions required to operate a business and manage employees and therefore does not include many of the time management or productivity tools that other time tracking apps offer. That being said, Homebase does a solid job of covering most of the gaps in employee time tracking that other apps miss.
The ability to clock in and out from a wide range of devices makes Homebase a great choice for businesses with remote teams or workers who work from multiple stores or job sites.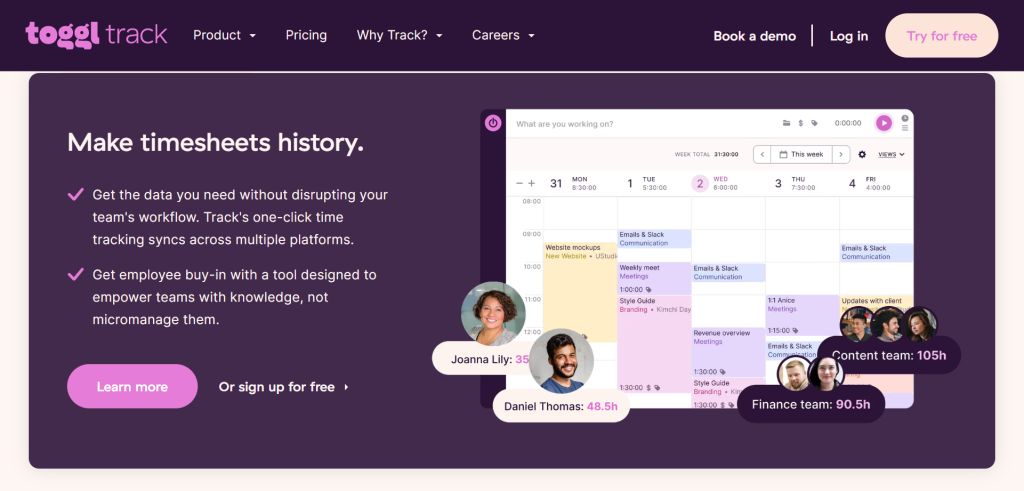 When it comes to a time recording app that is simple and easy to use right from the start, Toggl Track definitely fits the bill. Toggl Track is a full-featured time tracking tool with all of the most popular functions like project management, task tracking, and time management. However, Toggl Track has designed its user interface to perform the core functions employees need, like starting time tracking and switching between projects, with a minimum of input. This allows users to simply log in and start tracking time without spending unnecessary time entering project details, attaching tags, or any other administrative tasks. Toggl Track automatically stores time entries in blocks on a grid for users to fill in identifying details at a more convenient time.
The app's convenient browser extension available for Google Chrome or Mozilla Firefox makes Toggl Track even more user-friendly by placing a fully-functional timer in the most popular web apps so workers don't need to navigate away from their work to clock out for a break or switch to a new task. The Chrome browser extension can even be set to start tracking time when the browser is open and stop when it is closed.
Toggle Track offers core time recording functions for a limited number of users for free. Larger teams or those who are looking for more robust features like project expense reporting, and billing will need to upgrade to a paid subscription.
Who Is Toggl Track The Best Time Tracking Fit For?
Toggl Track offers a sound time recording app for small teams, freelancers, and solopreneurs looking for an easy-to-use, automated solution that just works. The free plan offers basic time tracking function for up to 5 users, so larger teams will need to purchase a paid subscription.
Toggl Track may also be a good choice for small businesses that are concerned about employee acceptance of an automated time tracking system. The simple, ultra-user-friendly dashboard and accessibility inside Chrome and Firefox should make it easier to win over even the most reticent staff members.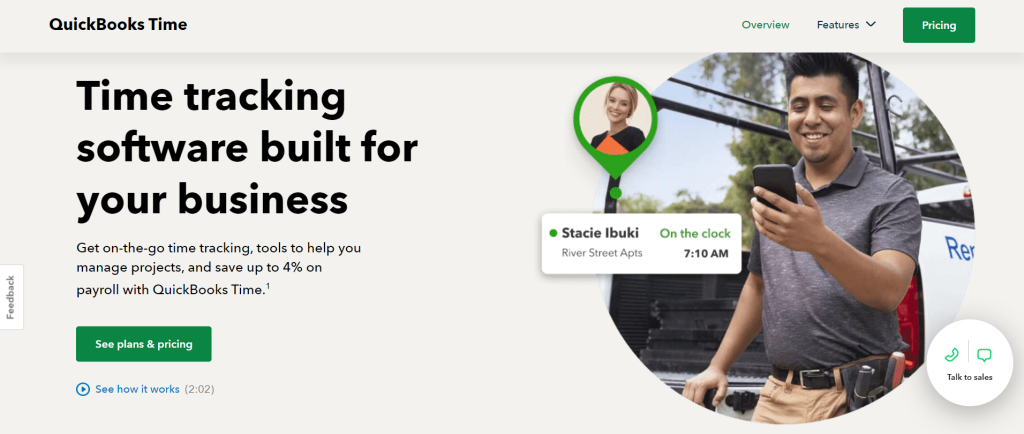 QuickBooks Time, formerly known as TSheets, was created as an add-on to the QuickBooks accounting suite but manages to stand on its own two feet as a solid time recording app. Because QuickBooks Time was created for QuickBooks it features some pretty robust timesheet management, invoicing, and reporting functions. Intuitive pop-out window navigation.
The web-based time tracker offers user form fields that allow for a high degree of customization for precise task tracking. While these features were initially intended to help users streamline accounting, and payroll processing tasks, they work equally well for any business looking to generate granular insights into how employees are spending their time, which projects and tasks are taking the most time, and the impact on the total cost of completing important tasks.
QuickBooks Time is more than a simple timesheet and accounting tool. The time recording app rivals many competitors with a mobile interface and geo-fencing capabilities that make it easy to manage remote workers and those who travel to different job sites throughout the day. A unique call-in feature even lets users call to clock in.
Who Is QuickBooks Time The Best Time Tracking Fit For?
We'll start with the obvious answer. QuickBooks Time is an ideal option for those who place a strong emphasis on creating highly detailed, and accurate timesheets. The tool integrates seamlessly with the rest of the Intuit QuickBooks accounting suite making invoicing and payroll processing simple.
That being said, those who are looking for a basic time-recording app capable of tracking work hours for remote teams, field workers, and on-site staff will find that app's handy time kiosk offers the flexibility they need. The QuickBooks Time kiosk turns any internet-connected device into an employee time clock and will even enable workers to clock in or out via such unconventional methods as a text message, or Twitter post.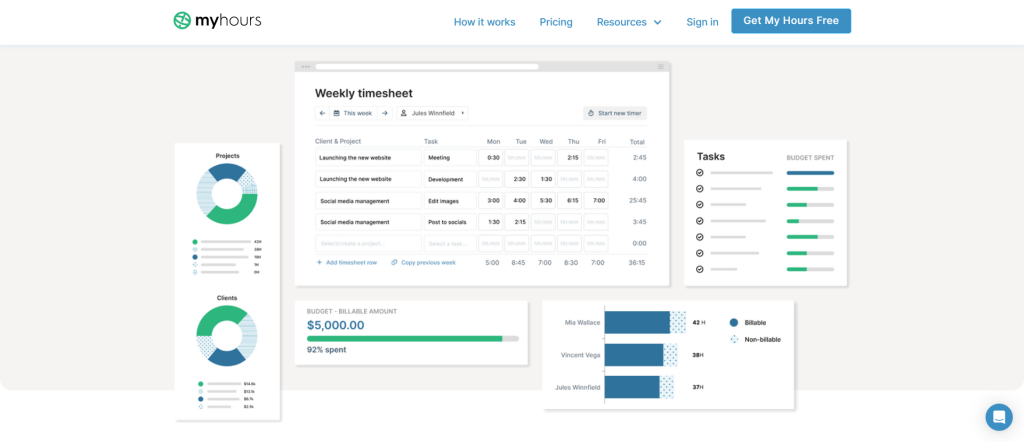 My Hours offers cloud-based time recording functionality combined with a robust set of project management and productivity improvement features. Users are able to easily track hours spent working using a simple time clock toggle that allows them to easily clock in and out of work and switch between projects.
The free forever version of My Hours will allow businesses and teams of any size to track the work hours for an unlimited number of users across an unlimited number of projects and tasks. My Hours will even allow users to generate an unlimited number of basic reports for free, something that is often reserved for paid subscribers on other time tracking platforms.
My Hours paid subscribers are able to gain access to a fairly comprehensive suite of project and time management tools that give administrators the ability to categorize tasks by billable rates, estimate the cost of each project according to several factors, assign tasks to specific team members, set budgets for each project, and much more.
The user-friendly dashboard and advanced reporting features help business owners see at a glance which team member offers the most cost-effective and efficient means to completing a given project or task. Reports can be filtered by a wide range of criteria allowing business owners to identify trends in individual employee productivity, attendance, and punctuality. Administrators can also use customized reports to gauge the types of projects and clients that produce the highest return on investment, compared with those that create the biggest drain on resources with little reward.
Who Is My Hours The Best Time Tracking Fit For?
My Hours is a strong all-around contender in the time recording app arena. The free version offers solid basic time tracking functions for an unlimited number of users, across unlimited projects, with the ability to generate unlimited basic reports. This makes My Hours a good option for businesses and teams of any size looking for a robust time clock app.
The paid features expand the functionality of My Hours from a simple time tracker to a comprehensive project and time management tool that allows administrators to identify areas where time and dollars are being wasted. This makes My Hours a good choice for anyone from freelancers to business owners who are looking to find ways to maximize business productivity and minimize expenses.
The Best Time Recording App For YOUR Business
We have just presented several different time tracking options, each offering its own unique subset of strengths and weaknesses. This is just a small sampling of the available options in the time tracking realm. So, how do you determine the best time recording app for your business?
The best way to choose the best time recording app for your business is to dedicate some time to analyzing your current business needs as well as your plans for the future. Choose a time recording tool that offers the features you value most now, and has the capability to grow with your business in the coming years.
Choose a tool that blends well with your company culture and balances profit maximization and time management with solid employee and administrative support features. Do you have a mobile workforce? Then you may want to look for the best time recording app for iPhone or the top time recording app for Android. Are you on a tight budget? Then you will likely want to prioritize finding the best free app to record time and create a simple time log. Concerned with accurate accounting and invoicing? An advanced timesheet app might be your best option.
At the end of the day, nobody knows your business better than you do, and you will know which employee time tracking app will ultimately be the ideal fit for your team.