The past decade has changed how the world works, and many of these changes quickly left businesses scrambling to adjust policies and practices to find ways to manage workers who may be located down the hall, or on the other side of the globe. Automated time tracking software and time management apps evolved to help fill the gap and Clockify quickly became one of the most popular free time tracking app options, but is it the best solution for your startup, or business?
What Does Clockify Time Tracking App Offer?
Clockify offers businesses and organizations a web-based solution to automatically monitor individual team members' time spent working on tasks, the budget for each project, and the cost of completion. The platform bills itself as "the only truly free time tracker for teams" because it was one of the first to offer a basic time tracking tool that could be used to track an unlimited number of users across an unlimited number of projects at absolutely no cost to administrators or users. Clockify does offer paid subscriptions that will allow users to add functions like invoicing and scheduling for an additional per-user cost.
While Clockify may have been one of the earliest free time tracking software to hit the market it certainly has some viable competition now. In this article, we will take a look at 5 of the best Clockify time tracking alternatives.
Clockify Time Tracking Alternative # 1: TMetric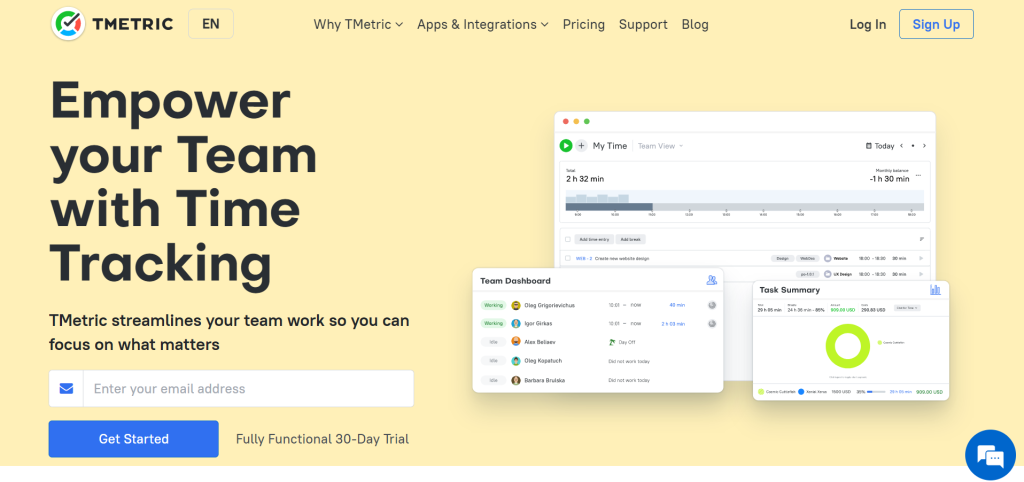 TMetric is a free team time tracking tool that allows business owners and freelancers to track work hours, and project costs for up to 5 users across an unlimited number of projects. TMetric immediately stands out for its wide accessibility across a broad range of the most popular operating systems and browsers. TMetric desktop software can be installed on Windows, Mac, and Linux systems, and the platform offers browser extensions for Google Chrome, Mozilla Firefox, Opera, Microsoft Edge, and Safari. The mobile app is available for both Android and iOS. This means that your employees will have no trouble downloading and using the app no matter what device or computer system they own.
TMetric offers all the standard automated time tracking features, providing users the ability to easily clock in and out of each unique project or task. In addition, the tool tracks periods of no activity and learns patterns so it is able to recognize when a timer may have been left running. TMetric then flags these events making it easy to identify and resolve errors quickly and help ensure that your budget and payroll are accurate.
TMetric offers a free subscription package that allows up to 5 users to track time across an unlimited number of projects. Users who are looking for more advanced functions like invoicing, payroll integrations, and scheduling can find all of those features on TMetrics paid subscriptions.
Is TMetric The Best Free Time Tracking App For You?
TMetric may be best for small teams who are looking for a straightforward and simple automated time keeping app. Some users complain that there is limited opportunity to integrate TMetric with other productivity tools and the integrations that are available often have limited functions. Additionally, the free plan allows only 5 users which means that most businesses will need to purchase a paid subscription to use TMetric.
Clockify Time Tracking Alternative # 2: TopTracker

TopTracker is a totally free online time tracking tool that was originally designed by freelance agency Toptal to provide their network of freelancers, consultants, and private contractors with a reliable way to track their time worked on client projects for accurate billing. Today, TopTracker is available to everyone on or off the platform for free. TopTracker offers free time keeping designed with freelancers and remote workers in mind. The desktop app can be downloaded and used on Windows, Mac, and Debian systems, while the cloud-based app allows users to track time from any internet-connected device. TopTracker understands how remote workers and freelancers work and offers built-in features like hot-key customization that allows users to start and stop the time clock app and switch between projects using simple keyboard commands rather than navigating through complicated menus.
The built-in invoicing, detailed reports, and ability to collect fee-free payments through a partnership with the Payoneer payment processing platform make TopTracker an all-around useful tool with more practical functionality than the majority of free time trackers. TopTracker offers limited proof-of-work tracking capabilities as well as screenshots and activity-tracking features that can be switched on or off.
Is TopTracker The Best Free Time Tracking App For You?
TopTracker offers a lot of functionality for free and places no limits on the number of users or projects that can be tracked. While the platform does offer some proof-of-work features like activity tracking and shared screenshots, it is not built for managing others. This means that businesses that are concerned with managing remote workers may not feel that TopTracker gives them enough control over their employee's productivity during work hours.
Clockify Time Tracking Alternative # 3: Toggl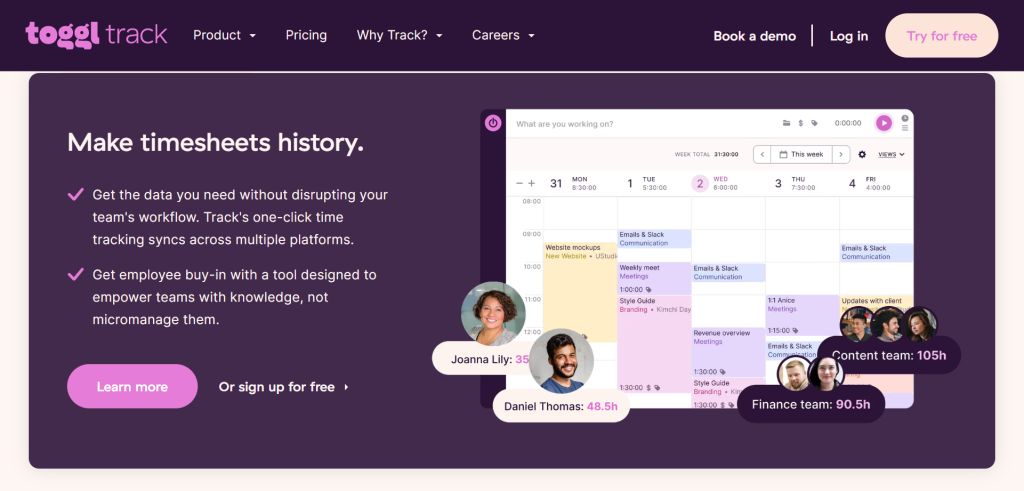 Toggl has quickly become one of the most popular free time trackers on the market and is one of Clockify's top competitors. What makes Toggl a crowd favorite? Users rave about Toggl's easy-to-use dashboards and visual graphs and charts that provide at-a-glance insights into workflows, worker productivity, and project costs.
Toggl is a truly automated solution that offers an unobtrusive time tracker that operates seamlessly across both desktop and mobile devices. Additionally, Toggl integrates with hundreds of third-party productivity and project management tools so users can track time without needing to navigate away from many of the popular tools they work with throughout the day.
Toggl offers a free subscription that allows small teams of up to 5 users to track time across an unlimited number of projects. Free users are able to take advantage of all Toggl integrations, and free reporting features. Larger teams can choose one of Toggl's paid subscription options and gain access to free time tracking for their entire team. Paid subscriptions also provide additional features like the ability to fine-tune project management by attaching custom tags to projects, generating project estimates, and more.
Is Toggl The Best Free Time Tracking App For You?
Toggl is one of the most popular tracking tools on the market for a reason. It certainly ticks off most, if not all, of the boxes that most people have when choosing a time tracker. However, the functionality of Toggl is limited to time tracking and project management. The platform does not offer any invoicing, payroll processing, or employee scheduling functions. This means that businesses will need to find, and pay for, additional services to meet all of their operational needs. Additionally, the free version of Toggl only allows for 5 users meaning that most businesses will need to purchase a paid subscription to use Toggl.
Clockify Time Tracking Alternative # 4: Traqq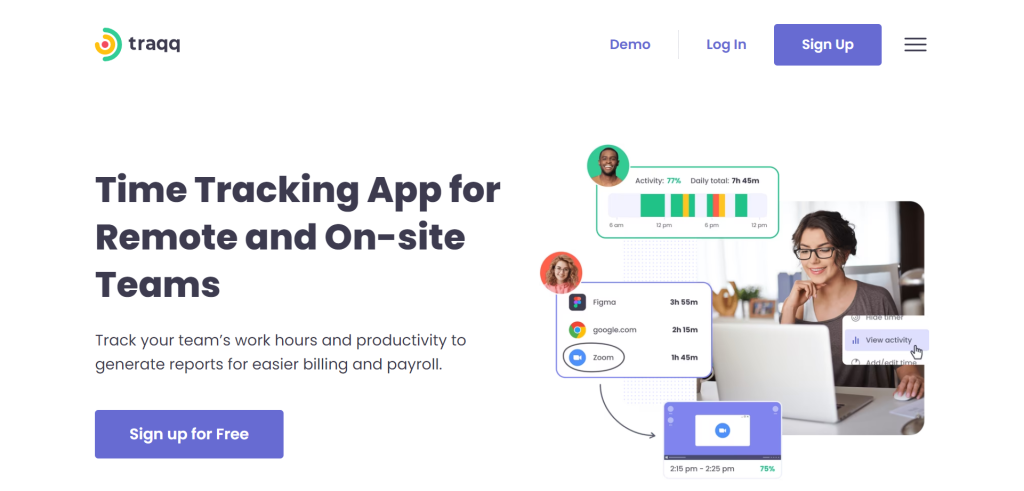 Traqq bills itself as a simple time tracker and ethical employee monitoring tool. Traqq offers an automated time tracking solution that works seamlessly across both Windows and Mac desktops and allows users to switch between PC or laptop with no disruption in their time tracking. Traqq also puts users in control of what time and activity is tracked and ultimately reported.
The platform offers a unique compromise to the friction between employers looking for proof of work, and control over employee productivity during the work day, and the employee's concerns over personal privacy. The tool features all the traditional employee monitoring tools including random screenshots, web activity recording, and mouse and keystroke tracking, however, the results generated by these tools are under the control of the employee. As the employee works throughout the day these proof-of-work events are attached to their work hours and automatically stored in a daily work log. At the end of the workday, the employee can choose to omit any unwanted screenshots by deleting the entry, and the time block, safeguarding their privacy, while saving the employer from paying for unproductive activity.
Traqq offers a free plan that allows small teams of up to 3 users to take full advantage of all features of the platform. There are no limitations on the free plan, beyond the number of users, and all 3 users can continue to use all premium features indefinitely. Larger teams will need to purchase a paid subscription to use Traqq for their business or organization.
Is Traqq The Best Free Time Tracking App For You?
Traqq offers a unique solution to the problem of the employer's desire to monitor productivity during work hours, and the employees' concerns about personal privacy when working from home. This compromise can result in employees losing out on compensation for worked hours, though the decision to include or exclude time blocks is completely at the employee's discretion.
The largest drawback for most is the lack of accessibility to mobile devices and alternative operating systems. Traqq is currently only available for use on Windows and Mac desktop computers and laptops. Mobile devices and Linux, and Chrome operating systems are not currently supported though the company has stated that this functionality is coming in the future.
Finally, the free version of Traqq only allows for 3 users, so most businesses will need to purchase a paid subscription to track time for all employees.
Clockify Time Tracking Alternative # 5: Harvest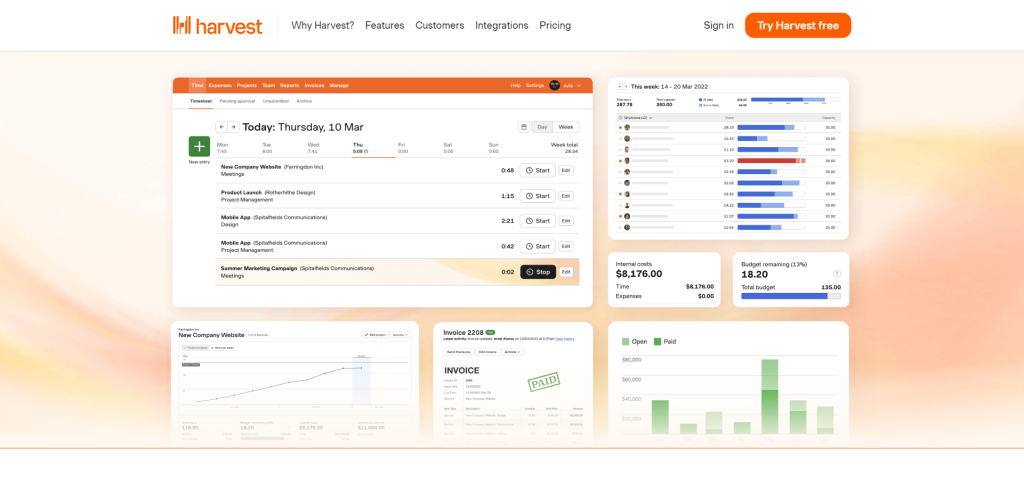 Harvest is one of the best options for those looking for an all-inclusive business administration tool rather than just an employee time tracker. In addition to offering solid time tracking and timesheet recording capabilities, the tool also provides automated invoicing, and the ability to generate reports that provide insights on how to streamline the workflow and increase productivity.
Harvest integrates seamlessly with the most popular third-party productivity and project management tools allowing your team members to stop and start timers without the need to navigate away from the tools where they are working. Additionally, the Harvest API allows tech-savvy teams to develop their own Harvest integrations expanding the ability to use Harvest anywhere their team works.
Harvest offers a free forever package that includes full access to Harvest tools for 1 user working on a maximum of 2 projects. This makes it a great choice for solo freelancers, but businesses and other organizations will need to purchase a paid subscription to gain access to all of Harvest's many features.
Is Harvest The Best Free Time Tracking App For You?
Harvest packs a lot of solid functionality into its professional time tracking tool, however, the free version of Harvest is extremely limited with access for only 1 user and 2 projects. This means that while freelancers may be able to use the tool for free, most businesses and startups will need to purchase one of Harvest's paid subscriptions to make use of this time tracking option.
Choosing The Best Free Time Keeping App For You
We have presented a number of unique employee time tracking tools with an array of different team tracking features. While some focus exclusively on tracking employee work hours, others allow for tracking projects and tracking tasks as well. When it comes to choosing the best free time tracking option for your company only you will know what tool is right for your team. We recommend taking some time to analyze your business needs and brainstorm which features are must-haves in an employee tracking system and which features you will not use. This will help you narrow your selection and choose the best time keeping solution for your team.